Do you like the Girl Scout Thin Mints cookies? If so, you'll love these cookies! They have the exact same chocolaty minty flavor, except instead of crunchy thin cookies, these are chewy thick cookies! They aren't too sweet and the chocolate isn't overpowering. I also love Andes Mint Chocolate!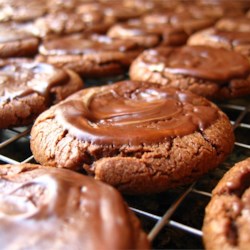 I've made this recipe before and they were a huge hit. I'll make it in the near future again so that I can take pictures and a video. But for now, here is the recipe if you want to give it a try.
Ingredients:
3/4 cup butter
1 1/2 cups packed brown sugar
2 tablespoons water
12 oz. (2 cups) semi-sweet chocolate chips
2 large eggs, room temperature
2 1/2 cups all-purpose flour
1/2 tsp. salt
1 1/4 tsp. baking soda
A bag of Andes Mint Chocolate, broken in half
Instructions:
Heat oven to 350°F.
Over low heat, combine butter, sugar and water. Heat until melted.
Add chocolate chips until only partly melted. Remove from heat and stir. Pour into large mixing bowl. Let stand 10 minutes to cool slightly.
Beat in eggs one at a time on high speed.
Reduce mixer to low speed and add flour, salt and baking soda. Beat until well-blended.
Chill one hour.
Roll into balls, place 2 inches apart on prepared baking sheets and bake for 10 minutes.
Place a halved Andes Mint piece on top of each cookie after taking them out from the oven. Allow to melt slightly and spread with a spoon.
Place onto cooling rack and let cool.